Diese Veranstaltung hat bereits stattgefunden.
Daniel Varga Quintet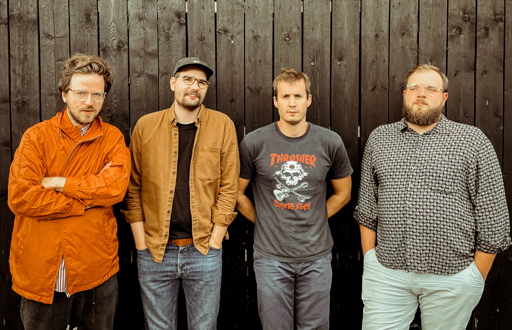 Daniel Varga (HU) – saxophone
Piotr Lipowicz (PL) – guitar
Ivar Krizic (CRO) – doublebass
Piotr Budniak (PL) – drums
The new album of the Hungarian jazz saxophonist makes it's international debut: Dániel Varga is an up and coming Hungarian jazz saxophonist and composer. His latest album was created in the spirit of the Hungarian-Polish friendship, isolated in the mountains of Poland from the world with his Polish-Croatian musicians, friends. The debut album of the Eastern European Quartet mostly reminds of modern mainstream jazz but it's combined with contemporary musical influences. A saxophonist and composer who doesn't care much about music genres – perhaps that's the sentence, that Daniel Varga's name is most associated with in Hungary.
The young artist studied in Graz at the University of Music, where he met with guitarist Piotr Lipowicz and Ivar Krizic bassist, with whom he has been working ever since. They found each other with Piotr Budniak – the polish drummer – in different projects while touring and playing concerts in Poland with Piotr Lipowicz. So four of them have been working together for nearly a decade, when finally in 2019 the European Jazz Quartet was founded.
After successful tours and numerous awards the pandemic and the shutdown put a temporary end on the bands workflow. In August 2021 came an opportunity by the Felczak Albums program in Hungary, and they had a week long isolated recording session at Monochrom Studio. "Although this is my debut album as a jazz saxophonist it also feels like a closure, because finally there will be room for the new compositions, sounds and aesthetics. I wrote most of the songs, and Feels like home and Uitwaaien were composed by Piotr Lipowicz. The compositions are actually a polished version of the songs I wrote during my years at the music academy. Because improvisation plays an important role in my life – and especially in the life of this band – I wrote most of the pieces in such a way
that freedom and improvisation could take the lead, not necessary the composition itself.
Even though the compositions look back at the times of my academy years, the improvisation, the interplay, and the bands chemistry already suggests the new era and atmosphere. I feel like it was a good decision to play and record these songs now, that I am 29, 30 years old. Now I have reached the point where I really feel like I am capable of playing these compositions in a way they deserve to be played. So this album might be a closure, but also the door to my/our new era. "- says Daniel Varga.